Submitted by

nialljpoleary

on Thu, 12/04/2014 - 19:20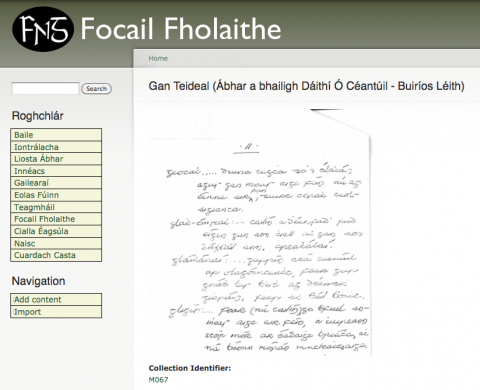 The FNG project, in the Royal Irish Academy, has in its possession a large collection of manuscripts, in which there are Irish words, phrases and notes collected from native Irish speakers all over the country during the twentieth century. Among them is a 500 page collection from Connemara by Tomás de Bhaldraithe (1916–1996), two thousand pages of examples collected by Seosamh Ó Dálaigh (1909–1992) in Munster, and another collection of the same size by Séamus Ó Grianna (1889–1969) in Ulster. With support from the Research Project Grant Scheme 2013 of the Irish Research Council, the staff of FNG were able to put together a research team to make these collections available to the public, in searchable format, free of charge, through www.fng.ie. 
There are over twenty thousand entries in the database at this stage, along with other supporting information from the manuscripts, and it is hoped that, depending on funding, the project will be further developed in the future.
"Hidden words" were found among the entries on the database, i.e. words and phrases not found in twentieth century printed dictionaries. These are also found on the website. It is vital that this richness of language is preserved, so that scholars and learners of Irish can access them, or they will be lost.
The website was developed by the Foclóir na Nua-Ghaeilge team in collaboration with Niall O'Leary.